What is Acupuncture?
Acupuncture prevents disease by affecting certain key points in the body through two means: the needleless technique, and the more traditional Chinese technique using needles. Stimulation of these points cause the brain to release natural pain killers that are vastly more powerful than morphine. Scientific studies have shown that acupuncture alleviates pain without the use of potent prescription drugs, surgery, side effects or complications. The sterile disposable needles cause minimal or no discomfort.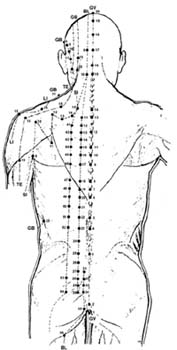 Acupuncture: growing in popularity in Canada
In the practice of acupuncture, the body is mapped with specific meridian channels and acupuncture points. As Western science sees it, an acupuncture needle stimulates the sensory nerve in the arm muscle, which triggers electrical impulses to a spinal cord nerve. That nerve then sends signals to three places:
To the pituitary gland. The pituitary responds by delivering endorphins and the body's natural anti-inflammatory chemicals into the surrounding brain tissue and bloodstream. In the case of asthma, the anti-inflammatory chemicals would travel through the bloodstream to the lungs. and help relieve the swelling and congestion there.
To the midbrain. The midbrain responds by discharging neurotransmitters, which are substances that block the body's pain pathways, easing the discomfort caused by the swollen airways.
To the nerve cells. The nerve cells respond by releasing endorphins, which are neurochemicals that naturally mute pain in the body, again easing the patient's discomfort.
Registered Massage Therapy
Massage therapy , the manipulation of soft tissue and joints, is known to have a profound benefit on the entire body. It can help balance the muscular system and nervous system, it helps to free the flow of oxygen and carries away toxins and other wastes. It also helps to loosen, stretch and soothe muscular tension. Massage therapy not only treats those parts of you that hurt, but integrates many of your body's systems to restore its own powers of healing.
Massage is safe and effective for stress management and is also helpful for:
Low back pain and sciatica
Muscle spasms

Headaches/migraines
Repetitive stress injuries

Whiplash
Chronic pain syndromes

Pre/post natal care
Sports injuries
Registered massage therapists in Ontario must complete 2,200 hours of training and must be examined by the province before becoming registered to practice under the Regulated Health Professions Act of Ontario.